The fine sporting reputation presently enjoyed by Epping Boys' High School owes a great deal to the efforts and foresight of the Parents and Citizens' Association.  They pressured the Education Department to buy nine and a half acres and then provided the finance and much of the labour to transform this rough sloping area into the splendid playing fields we enjoy today.  In the process bulldozers cut into the bank to a depth of forty feet, (12.192 metres) and transferred twelve thousand cubic yards, (9147.7metres cubed) of soil to fill the valley.  The entire school - community, parents, boys and teachers - was involved in the clearing and grassing of the ovals.
Until the completion of the oval in 1964, all training had to be held at Epping oval or other district sporting fields.  In spite of this the school was active in the North Western Metropolitan Zone, winning the Athletics from 1960 to 1970.  In 1965 the school had thirty-seven representatives in the Combined High Schools athletic team.  In 1964 the school was first out of the two hundred and thirty-five schools competing in the Combined High Schools carnival.
The usual range of sports was offered:  cricket, tennis and golf in summer and rugby union, soccer, hockey, basketball, golf and tennis in the winter.  After Dence Park pool was completed in 1960, life-saving and water polo were added to the summer offering.
Over the years boxing, judo, sailing, rowing, rugby league and weight lifting extended the range of choice.  Baseball, established in 1971, proved very popular with the school side under the guidance of Mr Gregoire, winning the state-wide Proud Shield competition in 1979 and in 1981.
Our rugby and tennis teams have carved out an enviable reputation in state-wide competitions.  They have won the coveted Waratah Shield for Open Rugby Union and the Stan Jones Trophy for tennis. In 1969, five boys from the school represented Australian Schoolboys in the Rugby Union tour of South Africa.  In 1981, the school produced five Australian representatives in three different sports.  Ian Williams created history by winning selection in the Australian Schoolboys' Baseball team and the Australian Schoolboys Rugby team.
These achievements can only occur in an atmosphere of intense sporting commitment.  Hotly contested inter-house competitions, especially in athletics and swimming, provided excellent training and stimulated keen interest amongst the students. Epping can be justly proud of dedication and skill of the teacher-coaches who give up so much of their own time to foster their sport.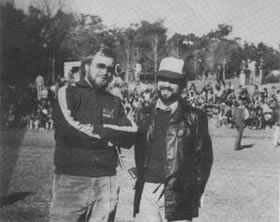 School Athletics Carnival
Mr Wing and Mr Gregoire and the school athletics carnival 1981
Australian Schoolboys Rugby 1980 - 81
The Australian Schoolboys Rugby Union Team 1980 to 1981.