Although girls shared the pioneer year, they were transferred to the newly established Cheltenham Girls' High School in 1958.  It is interesting to note that the challenge to segregated secondary schooling was gaining ground at this time and that Hunters' Hill High School was established as a co-educational high school in 1958.
The interests of the school reflected the optimism and prosperity of the period.  Sport was the only leisure activity to have class time allocated to it and the curriculum was academically oriented.
The school responded enthusiastically to the demands of the Wyndham Scheme which was introduced in 1962.  The Scheme, which can also be seen as a response to the rapid growth in secondary education, provided for a wider range of student abilities and placed emphasis on interest electives.  A greater range of manual subjects was developed and more emphasis placed on art and music.  The creative arts began to flourish alongside sporting and academic pursuits, eventually providing a balanced education for the sons of the Epping-Eastwood community.
From its beginnings the school has enjoyed keen community support.  The first headmaster, Mr McGregor, cooperated with the Parents and Citizens' to double the area of the school to double the area of the school to twenty-two acres and to landscape the grounds.  Over the years the school and the community have forged a close relationship which augers well for the greater community involvement.





The First Year - 1957
Epping Boys High School started out in its first year with boys and girls. In 1958 the girls moved to Cheltenham Girls High School.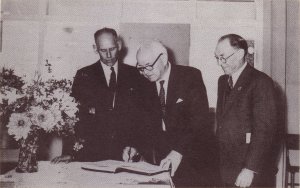 Official Opening of School 17 March 1959
Mr McGregor - Principal, Mr Heffron - Minister for Education and Mr Hearnshaw - Member for Eastwood, at the Official Opening of the school - 17 March 1959